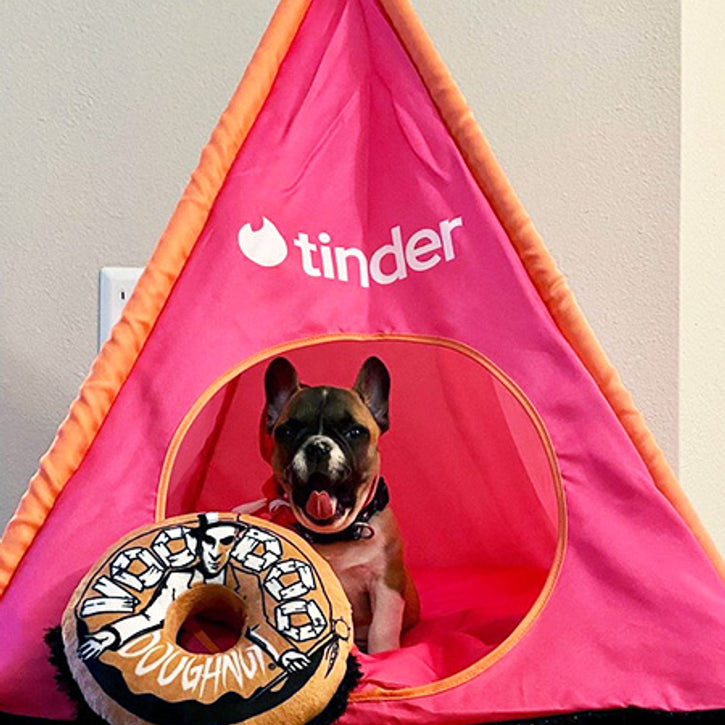 Resell on your site
Stand out at events
Wow your clients with unique gifts
Amaze your customers with giveaways
Step 2
Review & select designs
Step 4
Let's get you 'Pet Ready'
Step 5
Engage pet parents
Our expert design team works closely with you to create amazing products that are consistent with all brand standards and guidelines.
Let's Start
"I've been in the industry for about 10 years now…I know when I spot cool/unique products, and yall definitely have them."
Kyle Schumer, The MRL Group
"You're my only pet products contact that I work with. Plus you make my job 15 times easier so there isn't any other vendor I would want to work with."
Stephanie Frailey, Staples Promotional Products
"WOW! We received our order today and are blown away of the quality and beauty of the collars & leashes. You've exceeded our expectations! I look forward doing more business with PrideBites."
Paul, Bow Wow Bungalow
"Y'all have made it the easiest to imagine how i can create and execute my own pet line to sell to my customers. You are the only people doing this and I'm so glad I found you. We can finally have a shop for dogs and we're so excited!"
Kimber Holcombe, Red Clay Media
"PrideBites is the only company around that allowed us to truly create the kind of product our company envisioned at an affordable price."
Eric B., Warren London
"PrideBites were great to work with. The customer service I received was awesome and very quick at getting back to me about every question I had about their products. Will definitely be ordering again!"
Kaedan T., WOW Sportswear
"We've been using PrideBites for our custom swag items like toys, collars and leashes for years now. Not only are their products the best in the biz, the team is so fun and easy to work with"
Rachael K., DogVacay
"To me, it's all about relationships and no one does it better than PrideBites. Their amazing team was outstanding to work with. They went above and beyond the call of duty and allowed us to brand ourselves in a truly creative way."
Tricia M., K9 Fit Club
Customizable Dog Teepees
Dog teepees serve as a convenient middle ground between dog beds and dog houses. While all three share the same purpose of providing pet dogs with a comfy place to sleep in, dog teepees function as a dog bed and house rolled into one.
In addition to serving as a safe resting nook for dogs, dog teepees are designed to be used indoors and can easily blend in with the interior design of any home. It's no wonder, then, that many style-conscious pet parents who want to provide their pets with an extra level of comfort opt to purchase customizable dog teepees instead of going with more traditional options like dog beds and dog houses.
If you're thinking of adding fashionable dog teepees to your list of pet merchandise or marketing tools, PrideBites can provide you with expert assistance. Our team of pet product designers and manufacturers can help you develop pet products, including customizable dog teepees, that will reflect your brand and appeal to your target audience. Many pet product retailers rely on PrideBites to provide them with wholesale pet products for their business. Get in touch with our team today.
What Are Customizable Dog Teepees?
Dog teepees come in different forms, depending on the specifications of the company that commissioned the design of the product. In essence, though, teepees for pets have two distinct parts: the teepee itself and the pet bed. The teepee typically features four supporting posts that form a pyramid shape, and the posts are set in place and connected by a fabric tent that extends to the base of the said pyramid. One side of the tent features an opening for the pet. A simple dog bed is found inside the teepee to give the pet a soft place to rest.
Dog houses are often designed to be placed outdoors, and dog beds often serve as a mattress for pet dogs. Customizable dog teepees, on the other hand, are an indoor solution that combines the functions of a dog house and bed. Dog teepees feature a soft bed that covers the entire base of the tent, and the tent serves as a sort of privacy screen that allows the pet to rest undisturbed even if there are people or other pets around.
Customizable dog teepees come in all colors and designs, so they can be easily matched with the interior of one's home. At the same time, the teepee's closed design can help pet owners contain the amount of shedding in the property. This makes the product a perfect match for pet parents who want to enjoy all the benefits of pet ownership without having to sacrifice the look of their picture-perfect house.
While we call this PrideBites product a customizable dog teepee, it's also a useful tool for pet owners who take care of other types of animals. The custom-made teepee can be used just as well by cats, bunnies, hamsters, and other types of domestic pets.
How Do Customers Benefit from Using Customizable Dog Teepees?
Undoubtedly, the addition of a custom dog teepee to a home adds to the aesthetic of the interior, but it doesn't stop there. While dog teepees are nice to look at, they're not just all about their appearance; they have a practical purpose as well.
In a way, dog teepees mimic a den, which often serves as a natural home for dogs in the wild. The small, enclosed space offers pet dogs a calm and somewhat quieter atmosphere at any time of the day or night, promoting better sleep quality whenever the pet feels too spent or tired. A dog can retreat to its custom dog teepee whenever it feels the need to recharge and ensure that it's ready to take part in its pet parent's next activities and adventures.
While the structure of a customizable dog teepee is a bit more comp­­­licated than your typical dog bed, this doesn't mean that a teepee is harder to maintain. If anything, a customizable­­­ dog teepee provides the extra benefit of keeping loose dog fur inside the teepee instead of allowing it to spread to other parts of the house. Cleaning up the loose fur is a breeze since the strands are contained in one spot. When the teepee needs a thorough cleaning, simply remove the cushion, vacuum its interior, remove the wooden support, fold, and toss it in the washing machine. It's lightweight yet durable enough to withstand weekly machine cleaning.
Why Are Customized Dog Teepees Ideal Marketing Tools or Store Merchandise?
Dog beds are a common sight in many pet merchandise shops and even general stores, but the competition is not as tight when it comes to customizable dog teepees. Your store can carry dog teepees of different designs and materials to match a wide range of design aesthetics. That way, you'll easily get the attention of pet parents who want to maintain their vision for the interior of their home without compromising the comfort of their furred companions.
Because of its shape, a custom dog teepee has a lot of blank spaces that can feature different patterns and colors that will suit all sorts of interior design themes. No matter if your customers want a customized dog teepee that will go well with their bohemian, contemporary, retro, rustic, or even industrial-inspired rooms, they'll be able to find the best match in your store.
Selling or giving away customized dog teepees is also a great idea if you're looking for something that will endear your brand to pet owners. You can order a batch of dog teepees with your company's design elements from PrideBites, then use the finished products as giveaways or prizes for promotions that encourage community engagement.
Your company's services and products don't have to be connected to the pet business to reap the benefits of this strategy, either. There are millions of pet owners in the United States alone, and a significant portion of your market likely belongs to this demographic. While your company may not be directly involved in the pet industry, providing quality pet products for free or at a very reasonable price to your target market will ensure that you'll leave a positive impression on the pet parents in the group.
Providing pet parents with an attractive pet product that they can use or see every day will definitely benefit your business in the long run. Your brand's colors, logo, or mascot will become a part of your customer's home environment, for one, and your customized dog teepee might even make it into your customer's social media account. This can improve your brand's reach and exposure.
At the same time, because they often see your branding elements in their home, consumers will be able to remember your brand, products, and services better. In case they need something that your business can provide, they'll likely consider your company as their top-of-mind option, and this can bring in more profits to your business.
What Do You Need to Consider When Designing Custom Dog Teepees?
There are different things you need to think of when designing customizable dog teepees for your business. First off, you have to think of what you want to use the dog teepees for. Do you want to sell them as merchandise, or are they for promotional and marketing campaigns?
Next, you need to consider what the final product will look like. Design elements are important, but you should also consider the sizing, the materials, the added features you might want to include, and how many units you should order.
PrideBites Is Your Go-to Customized Dog Teepee Manufacturer
If you're looking for a dependable designer and manufacturer of customized dog teepees for your business, you've come to the right place. Founded by pet lovers at heart, the PrideBites team is made up of experienced pet product designers and manufacturers. We can collaborate with your company and come up with a dog teepee design that reflects your brand and the quality of the products and services that your business provides its customers.
It doesn't matter what industry you belong in; we can design and manufacture pet products that will allow you to reach out to and make a connection with pet parents. In the past, PrideBites has worked with companies in the hospitality, technology, and food and beverage industries, to name a few, and we bring the same level of commitment and expertise when designing the items you ordered for your business.
Make the most out of the current boom in pet product sales and the growing number of pet owners around the world. If you have an idea about a pet product that you want to design and manufacture for your brand, get in touch with the PrideBites team so that we can work on it as soon as possible.
To get started, simply check out our Start a Project page. You can also click on our Case Studies and Catalog pages to take a closer look at the projects we've worked on in the past. Are you excited to get started? See what our partner companies can say about the quality of work that we do on the page where we tell Our Story.
---
Let's Get Started!
For more information or a FREE mock up, please fill out the form below and we will contact you soon!