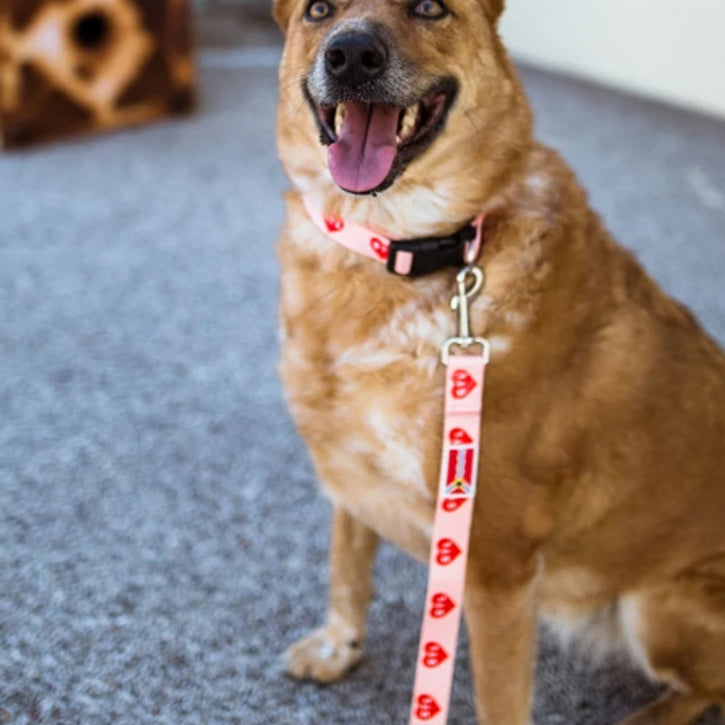 Resell on your site
Stand out at events
Wow your clients with unique gifts
Amaze your customers with giveaways
Step 2
Review & select designs
Step 4
Let's get you 'Pet Ready'
Step 5
Engage pet parents
Our expert design team works closely with you to create amazing products that are consistent with all brand standards and guidelines.
Let's Start
"I've been in the industry for about 10 years now…I know when I spot cool/unique products, and yall definitely have them."
Kyle Schumer, The MRL Group
"You're my only pet products contact that I work with. Plus you make my job 15 times easier so there isn't any other vendor I would want to work with."
Stephanie Frailey, Staples Promotional Products
"WOW! We received our order today and are blown away of the quality and beauty of the collars & leashes. You've exceeded our expectations! I look forward doing more business with PrideBites."
Paul, Bow Wow Bungalow
"Y'all have made it the easiest to imagine how i can create and execute my own pet line to sell to my customers. You are the only people doing this and I'm so glad I found you. We can finally have a shop for dogs and we're so excited!"
Kimber Holcombe, Red Clay Media
"PrideBites is the only company around that allowed us to truly create the kind of product our company envisioned at an affordable price."
Eric B., Warren London
"PrideBites were great to work with. The customer service I received was awesome and very quick at getting back to me about every question I had about their products. Will definitely be ordering again!"
Kaedan T., WOW Sportswear
"We've been using PrideBites for our custom swag items like toys, collars and leashes for years now. Not only are their products the best in the biz, the team is so fun and easy to work with"
Rachael K., DogVacay
"To me, it's all about relationships and no one does it better than PrideBites. Their amazing team was outstanding to work with. They went above and beyond the call of duty and allowed us to brand ourselves in a truly creative way."
Tricia M., K9 Fit Club
Dog Leashes
Leashes have existed for as long as humans have needed a way to control and communicate with their pets. Also known as a lead, lead line, or tether, the humble leash works in conjunction with a collar, harness, or halter to help a pet parent relay commands to their animal friend. They also help during situations when it is necessary to keep the pet leashed for their own safety.
As concepts related to pet care, ownership, and training continue to evolve, so, too, does this unassuming accessory. In the past, pet owners could use practically anything as a leash, as long as they could attach it to the animal in some way. This includes lengths of rope, simple metal chains, and so on.
Nowadays, manufacturers take both the safety of the pet and the comfort of the leash holder into account when designing leashes, among various other considerations. This has resulted in a veritable myriad of options now available on the market.
If you're interested in expanding your retail business's product line, you may want to consider adding custom leashes to your catalog. You can even use them to promote your brand. The best part is that your business doesn't necessarily have to be pet-related to benefit from using these products. In fact, at least a small portion of nearly every industry or niche's existing audience is likely to be made up of pet parents.
In this comprehensive guide, we'll lay out everything there is to know about leashes and why your business should sell or give them away. We'll also give you tips and tricks on helping your customers choose the right types of leashes for their pets, among other relevant topics.
What Is a Leash?
First-time pet parents can sometimes feel overwhelmed by the long list of necessities they must procure before they can bring their new fur babies home. However, few dog supplies are more important than the collar and the leash. Both are considered important tools and are often used in conjunction with one another for a wide variety of different functions, including training the pet.
By far, though, the most important function of a leash is to facilitate communication between the pet and the person holding the other end of it. That being said, many pet parents prefer to have various types of dog leashes on hand to serve different purposes.
Why Do Your Customers Need to Purchase Leashes for Their Pets?
In most parts of the United States, leashing one's pet is the law. Many cities have passed legislation that requires owners of dogs—as well as cats, in some places—to keep their pets leashed in outdoor public areas. However, there are plenty of other compelling reasons why those who have or train pets consider leashes essential. Here are some of them:
They Can Keep Pets Safe
Using leashes can keep pets from running off and injuring themselves or others. For instance, it can prevent dogs from darting into a busy street and causing a nasty traffic accident. Leashes can also keep them from running afoul of other animals that may bite or injure them. Conversely, leashing pets can keep their instinctive hunting behaviors in check, protecting wildlife and other pets in the area.
They Can Keep Pets Out of Trouble
Keeping a pet on a leash can prevent them from relieving themselves in inappropriate areas, digging up lawns, or causing other forms of damage to public and private property. Additionally, leashes are useful in signifying that a dog has an owner. This can make it much easier to reunite a lost fur baby with their pet parent, especially if useful identifying information is also clipped onto the pet's collar.
They Can Help Owners Train Their Pets
Finally, the leash can be used to assist with and correct a few common behavioral issues. Dogs that don't comply with commands may become more responsive when they are trained using a leash. Wearing a leash can also make some dogs quiet down when they are being excessively noisy. Moreover, restraining the pet with a leash can help them stay still while they're being bathed or groomed.
What Factors Should Your Customers Take into Consideration Before Purchasing a Leash?
Length and Width
Leashes are available in a wide range of lengths and widths to accommodate different dog breeds and purposes. The most standard lengths are 4 and 6 feet, though they can also be found in 8, 12, and 33 feet options. Extra-long leads, in particular, give pups plenty of room to roam around.
For daily walks, experts recommend using a 6-foot-long leash, which is believed to be the best and most manageable length. It offers just the right amount of slack for a dog to sniff around and explore by themselves. However, this kind of leash is still short enough to offer instant feedback and control when necessary.
Meanwhile, extra-long leashes that are 12 feet and longer are great for dogs who are hard of hearing. These long leashes allow older pups to safely experience a bit of freedom and independence while remaining connected to their pet parents. Finally, leashes that are about 4 feet in length are great for off-leash walks.
The width of the leash also matters. Common leash widths range from half an inch up to 1 inch to accommodate different dogs and purposes. Ideally, the leash should be thick enough to withstand a dog's strength based on their size and weight. At the same time, it should still feel comfortable in the pet owner's hand.
With all of this in mind, it's a good idea for your retail business to stock up on a variety of leashes in different sizes to accommodate as many pet parents as possible. If you're investing in custom leashes for promotional or selling purposes, you may want to order the most common sizes. PrideBites' customizable offerings come in the standard lengths of 4 and 6 feet. They are available in three distinct sizes: small, with a width of 5/8 inches; medium, with a width of ¾ inches; and large, with a width of 1 inch.
Type
Various purposes and preferences have given rise to the many dog leash styles and designs that are available in the market today. That being said, many pet parents prefer to have several different types of leashes on hand to suit various kinds of situations.
The standard leash or basic leash is a straightforward accessory that will be familiar to most pet parents. They have a loop handle on one end and a metal clip on the other that is meant to be attached to the pet's collar. Great for basic training and everyday use, they can be made out of different materials such as chain metal, nylon, or rope.
Retractable leashes are made up of two parts: a nylon band or cord that can extend up to 26 feet, and the plastic case it can retract into that also acts as its handle. Leashes like these are also equipped with a button that can lock or retract the leash at any length. Retractable leashes are useful for pet parents who want to give their fur babies a bit of room to explore without letting them off the leash entirely.
The slip leash functions as both a collar and a leash. Designed as a single line that loops onto itself, they can be used to manage strong pullers. They're also perfect for dogs that tend to bite or chew on their leashes or collars.
There are many other types of dog leashes that possess special features, such as ones with special grip handles or hands-free clips. There are also some leashes designed specifically for running with canine companions. PrideBites' extensive catalog includes customizable standard leashes, running leashes, and slip leashes that your company can truly make your own.
Material
Because leashes tend to see a lot of abuse, they are usually made with durable materials that can withstand excessive pulling or gnawing.
Nylon is by far the most popular material used for making dog leashes. In addition to being one of the safest fabrics for dogs, it is also relatively inexpensive, difficult to snap or break, and tends to keep its shape well.
Leather is another popular choice for leashes. Though they tend to be more expensive than nylon dog leashes, they are incredibly durable. Some treated leather leashes can last a lifetime and still look stylish. Leather leashes can soften and change shape with age, making them an attractive choice for pet parents looking for a more comfortable way to manage their fur babies.
Finally, there are leashes made of metal chains. Though they are no longer as popular as they used to be, they are still considered a viable option for pet owners whose dogs have laid waste to other types of leashes. Customers who do not wish to keep buying new leashes over and over usually go for this option. However, they are only suitable for certain breeds and are not recommended for use with small puppies.
Are you ready to create your very own custom dog leashes for your business? PrideBites' leashes are made with sturdy nylon and feature heavy-duty stitching to prevent fraying. Their handles are also padded for pet owners' comfort. Find out how they can help your brand reach pet enthusiasts by getting in touch with us today. We can fulfill wholesale orders of customizable dog leashes and other custom pet products in just 4-6 weeks.
---
Let's Get Started!
For more information or a FREE mock up, please fill out the form below and we will contact you soon!