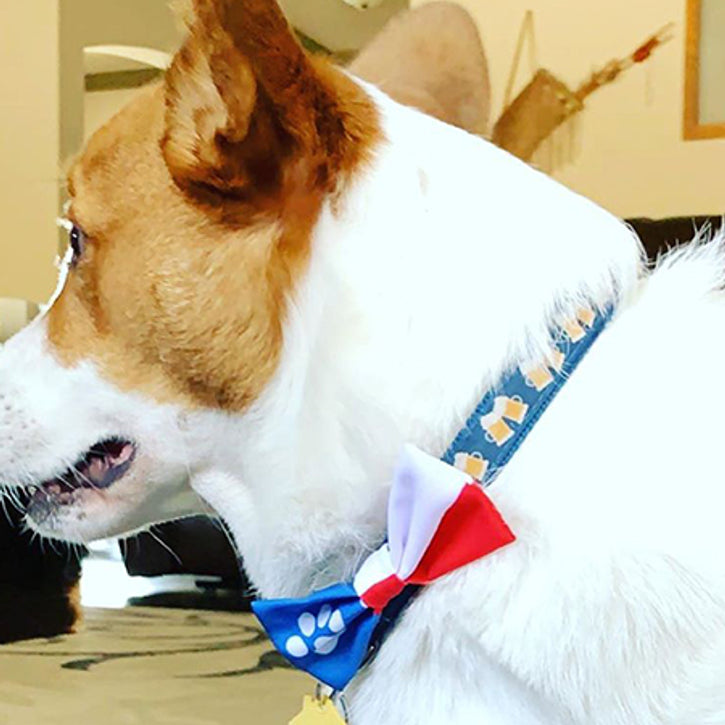 Resell on your site
Stand out at events
Wow your clients with unique gifts
Amaze your customers with giveaways
Step 2
Review & select designs
Step 4
Let's get you 'Pet Ready'
Step 5
Engage pet parents
Our expert design team works closely with you to create amazing products that are consistent with all brand standards and guidelines.
Let's Start
"I've been in the industry for about 10 years now…I know when I spot cool/unique products, and yall definitely have them."
Kyle Schumer, The MRL Group
"You're my only pet products contact that I work with. Plus you make my job 15 times easier so there isn't any other vendor I would want to work with."
Stephanie Frailey, Staples Promotional Products
"WOW! We received our order today and are blown away of the quality and beauty of the collars & leashes. You've exceeded our expectations! I look forward doing more business with PrideBites."
Paul, Bow Wow Bungalow
"Y'all have made it the easiest to imagine how i can create and execute my own pet line to sell to my customers. You are the only people doing this and I'm so glad I found you. We can finally have a shop for dogs and we're so excited!"
Kimber Holcombe, Red Clay Media
"PrideBites is the only company around that allowed us to truly create the kind of product our company envisioned at an affordable price."
Eric B., Warren London
"PrideBites were great to work with. The customer service I received was awesome and very quick at getting back to me about every question I had about their products. Will definitely be ordering again!"
Kaedan T., WOW Sportswear
"We've been using PrideBites for our custom swag items like toys, collars and leashes for years now. Not only are their products the best in the biz, the team is so fun and easy to work with"
Rachael K., DogVacay
"To me, it's all about relationships and no one does it better than PrideBites. Their amazing team was outstanding to work with. They went above and beyond the call of duty and allowed us to brand ourselves in a truly creative way."
Tricia M., K9 Fit Club
Customizable Branded Dog Bowties
Many pet parents love to dress up their fur babies and show a fun and creative side to their pets' personalities. Dog parents, in particular, are fond of pampering their pups with accessories. Whether they're taking their dog out for a casual walk in the park or including them in holiday festivities, the occasion is always a little more special with dog apparel.
Accessories like bowties can serve some practical purposes, too. They can help a customer's dog stand out and become more visible to other people, and therefore safer from accidents. Plus, if the dog has a very congenial personality to begin with, they'll love being lavished with extra attention thanks to their bowtie.
What do pet products like dog bow ties have to do with your company? You may be surprised to learn about the marketing opportunities that can take place thanks to a well-made and highly reusable custom bowtie. Aside from brightening up a dog's look and pleasing a customer who's also a dog parent, customizable branded dog ties can give your brand some valuable leverage over competitors. Here's why you should consider releasing a line of customizable branded dog bowties, and how specialty pet products like these could work in your company's favor:
Why Do Pet Parent Customers Love Customizable Branded Dog Bowties?
To begin with, the market for dog accessories and apparel is already a pretty lucrative one. For their simplicity, adaptability, and potential to unlock a dog owner's creative side, dog bowties have become pretty popular. Here are three reasons why they're so appealing:
They Help Your Customers' Dogs Look Dapper
Dog bowties are awesome for special occasions like birthdays, family reunions, and even weddings where the couple celebrates the part their dog played in the relationship. But big occasions like these aren't the only times your customer's dog can rock a bowtie. Such an accessory fits in during simple everyday activities like a visit to the vet or a walk around the neighborhood, all while helping your pup stand out from the crowd.
They Offer Variety from Generic Dog Collar and Dog Accessory Designs
A large chunk of the dog owner population is on the lookout for less generic products. Dog owners see the appeal of paying a little extra for unique, branded, and high-quality products for their dogs as well as for themselves. You can capitalize on this desire of theirs to get original, out-of-the-ordinary dog apparel by launching your own line of customizable branded dog bow ties.
They Help Your Customers' Dogs Stand Out in Helpful Ways
One very practical benefit of a dog accessory like a dog bowtie is how visible it makes your customer's dog. This matters a lot when both dog and owner are in public settings, such as a park. In case your customer's dog runs off-leash and gets lost, it won't be hard for other people to identify them if they're wearing such a distinctive accessory. Several dog owners already know what practical purpose a dog bowtie may serve, and thus may already be looking for one for their dog.
Why Should Your Company Invest in Its Own Line of Customizable Branded Dog Bowties?
Now that you know the benefits of such an accessory for your customers and their dogs, it's time to explore the idea of producing customizable branded dog bowties of your own. Below are some pretty good reasons to incorporate them into your brand strategy:
They Make Great Corporate Giveaways or Promotional Materials
You can start by giving these accessories away as corporate freebies. They're sure to stand out amidst the usual giveaways like notebooks, notepads, totes, or caps. For choosing variety in your giveaways, your brand may soon become the talk of the town, especially among the many customers or partners who are already dog owners.
They're a Product That Customers Would Pay For
If you design your product well and grab the attention of customers who are devoted dog owners, you'll see that they're willing to spend. This purchase will prove more rewarding for them than the run-of-the-mill dog accessories that they typically find in pet stores. Plus, the niche market of dog owners is a pretty loyal one. If you can earn their loyalty by selling an appealing and well-constructed pet product, they're likely to patronize your other products or services as well.
They're a Great Way to Showcase Your Brand's Values
There are many positive qualities about your brand that you can communicate through the use of a highly visual item, like a custom dog accessory. Your customers will infer that your brand loves animals and cares about their welfare, for one. If you're a clothing brand, you can convey that your pursuit of fashion and good taste benefits not only your human customers, but also their pets.
They'll Help You Achieve New Branding Experiences
Ultimately, branching out into pet products like customizable branded dog bowties can help you refresh your branding strategy. You may be able to achieve more organic and positive brand engagement by trying a marketing tactic that's a little out of the ordinary. Both present and future customers can interact with your brand in a way that's more authentic than the usual print or online ads. Of course, it doesn't hurt that your customers' dapper dogs make the perfect brand ambassadors!
How Should You Design Your Own Customizable Branded Dog Bowties?
All things considered, it won't be enough for you to simply launch a product line and expect it to succeed. For your customers to get the most value out of their new dog accessory, and for them to be truly satisfied with their experience of your brand, you have to be thoughtful about the product's design. Here are some important considerations that you have to make if you want to release your own line of customizable branded dog bowties:
Use Comfortable But Sturdy Cloth Material for Your Bowties
The foundation of your product is the material that you use. As such, you'll want to make them out of a breathable material that can also withstand the elements. Polyester fabric is a good option because it's light and comfy for a dog to wear. This material is also easy for the dog owner to wash and dry in case the dog bowtie gets dirty.
Provide an Easy Way to Clip the Bowtie onto the Dog's Collar
The second element that you have to pay attention to is the product's ease of use. The dog bowtie should be easy to attach and detach from a conventional dog collar without much fuss. The less stressful the application of the bowtie is, the happier your customer and their dog will be.
Create Unique and Eye-catching Bowtie Designs
The way to a pet parent's heart is through visually appealing and noticeable accessory designs. When you're in the process of designing your dog bowties, don't be afraid to partner up with people who can bring out a more creative side to your brand. Aim to release products that not only stay true to the visual identity and attributes of your brand, but also help your brand name stand out from the rest of the pack.
Test the Bowties Extensively for Safety, Comfort, and User Experience
Lastly, don't release the product just yet if you're not completely confident that your pet parent customers will enjoy it. Only give the go signal for mass production when you've got a product that's safe to wear, comfortable for a dog, and intuitive for the owner to use.
Some Valuable Marketing and Promotional Tips for Your New Customizable Branded Dog Bowties
Need some extra encouragement for going out of your comfort zone and pursuing a new branding strategy with pet apparel? Here are some practical tips for marketing specialty products like customizable branded dog bowties:
Get the Pulse of Your Dog Owner Customers
Do some research and engage the people in the niche market that you want to tap. Try to see what your pet parent customers are like in terms of their humor and what other interests they may have in common with each other aside from dogs. This will help you visualize unique opportunities to create bowtie products that truly resonate with them.
Get a Professional Pet Apparel Designer to Create Mock-ups for You
For the particulars of the design work, commission a professional. Ask your design partner to help you make mock-ups of potential designs, and discuss your top design options with them.
Show Off How the Bowties Actually Look on Dogs
Once your products have been released to the public, aim to promote them regularly on social media. One effective strategy is creating "look book" type social media content that showcases how your bowties look on different dogs. If your customers can see just how good other pups look in your bowties, they'll likely buy your product.
Join Pet Expos, Trade Fairs, or Other Events to Promote Your Product
Once your line of dog bowties is out, seek opportunities to sell to customers within that niche. Some good examples include pet expos and trade fairs, where people may already be looking for pet products like yours.
Take Your Marketing to the Next Level with PrideBites' Customized Branded Dog Bowties
You may initially feel like specialty pet products like customizable branded dog bowties are out of your league. But with a business partner like PrideBites, you'll be able to break into the niche and promote your brand in an interesting new way. We are a company widely recognized for our expertise in the area of wholesale pet products, having won major awards in the pet industry and garnering the interest of two magnates in ABC's hit show Shark Tank. We've worked with brands in all sorts of industries and niches, and we also supply wholesale pet merchandise to retailers within and outside of the pet industry.
Let us share our knowledge about custom pet products and how they can add value to your company. Contact PrideBites now and be one step closer to launching your own line of customizable branded dog bowties!
---
Let's Get Started!
For more information or a FREE mock up, please fill out the form below and we will contact you soon!